Houndstooth Clothing 101: How to Create the Best Houndstooth Outfit
Houndstooth pattern is quite popular this season, and we can find many interesting outfits featuring this fantastic print. This pattern is an excellent choice to wear during fall and winter, and most importantly, you can pair it with many different pieces from your wardrobe.
The best thing about houndstooth print is its timeless appearance and superior versatility. You won't go wrong with this unique pattern, which can be your go-to choice for work, dinner with friends, first dates, or any other occasion where you want to look chic and stylish.
Let's learn more about this timeless print and see the best ways to create houndstooth outfits.
Houndstooth Print Overview
Houndstooth coined its name after its resemblance to the dog's tooth shape. It's a classic yet universal print that never goes out of style, which makes it a perfect wardrobe staple any lady should have. It usually comes in a black and white combination, but you can find it in other captivating color options, as well.
You can find many garments featuring houndstooth print, including
pants
,
skirts
,
jackets
,
blazers
, and
dresses
. Their evergreen style and enhanced versatility allow many different outfits ready to hit the catwalk.
Let's see the most compelling houndstooth outfit ideas to inspire you to include this gorgeous print in your wardrobe.
Houndstooth Jacket – Brown Houndstooth Trucker Jacket ($98.00)
A
Trucker Jacket
is an eye-catchy piece that will turn your outfit into a true masterpiece. It features a classic brown houndstooth pattern suitable for different occasions, from business settings to brunches and dinners. You will love a button front closure and breast pocket details, which enhance the jacket's overall design and make it more prominent.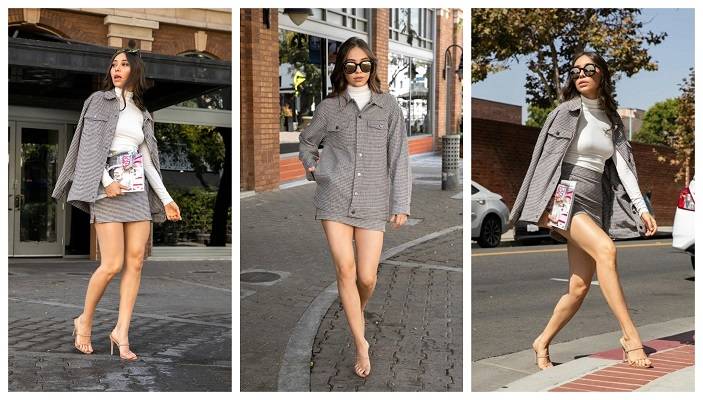 This jacket can be an excellent addition to your fall outfits, protecting you from cold and delivering a chic look that won't go unnoticed. It works perfectly with a wide variety of miniskirts, pants turtlenecks, and
crop tops
.
Houndstooth Skirt – Brown Houndstooth Mini Skirt ($58.00)
Brighten your style with a
Brown Mini Skirt
, which never loses its luster. It's an ultra-modern piece that can be ideally paired with turtlenecks, tops,
blouses
, jackets, and different types of shoes, including boots and sandals.
This stylish skirt provides a significant dose of classiness and sophistication that cannot be unseen when you're walking down the street. It can create various apparel ideas inspired by the fashion magazines' covers, and its exquisite details contribute to the skirt's overall appearance.
Remember the Brown Trucker Jacket we have just mentioned? Pair it with the skirt and get a chic monochrome outfit that spreads vintage vibes.
Top 23 Fall Outfits You'll Fall in Love With in 2020

Smart Casual Women's Outfits: Do's, Don'ts, and 12 Best Examples

60 Degree Weather Outfits: 10 Must-Have Items for Milder Temperatures

Work Wardrobe in Detail: What to Wear, Where to Buy, and 10 Best Office Clothes

Top 12 Skirt Outfits to Wear Throughout the Year

15 Easy Outfit Ideas for Effortlessly Chic Look

New York Fashion: 20 Styles to Wear in The City That Never Sleeps

12 Expert-Approved Outfits to Wear on a First Date

17 California Clothing Styles You'll Love in 2021

Top 16 LA-Inspired Outfits to Dress Like an Angeleno
Houndstooth Pants – High Waisted Jogger in Black Houndstooth ($88.00)
High Waisted Jogger is a must-have wardrobe staple with which you can create a lot of eye-catching and effortlessly chic outfits that fit any environment. This pair of jogger pants is ultra-modern and comfortable, and its timeless design makes it convenient for all the occasions where you need an extra dose of breathability.
High Waisted Jogger
is a must-have wardrobe staple with which you can create a lot of eye-catching and
effortlessly chic outfits
that fit any environment. This pair of jogger pants is ultra-modern and comfortable, and its timeless design makes it convenient for all the occasions where you need an extra dose of breathability.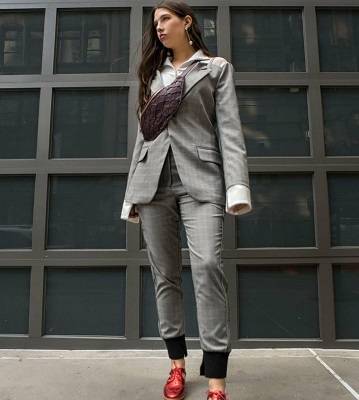 These pants are quite versatile and easy-to-combine, which is why you can wear them paired with different kinds of tops, blazers, and jackets. They also work perfectly with Oxford shoes, sandals, pumps, and sneakers, allowing you to wear them in either a casual or dressier manner.
Houndstooth Bustier Dress ($88.00)
There is nothing more fabulous than a houndstooth dress that can make you look sexy, unique, and sophisticated. One such example is a
Bustier Dress
, enhanced with underwired cups, hidden back zipper closure, adjustable shoulder straps, and full lining. It will take your look to the next level and make you feel incredibly confident, no matter where you choose to wear it.
A flirty houndstooth dress is all you need whenever you want to make a statement on the streets, cafes, or cocktail parties. It works perfectly with cropped blazers, faux leather jackets, knee length boots, and various accessories that complete your overall look.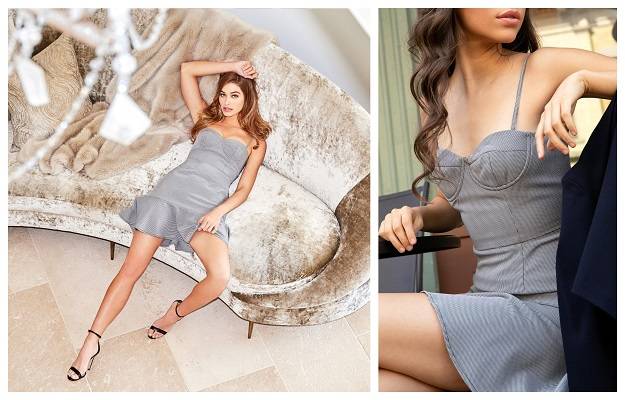 How to Wear a Houndstooth Pattern?
You can wear a timeless checkered pattern in many different combinations, but you must be careful when pairing it with other colors, patterns, and styles since it is about a unique print. Houndstooth is a perfect choice for fall and winter, but, if styled properly, it can be your year-round pick.
How to Wear Houndstooth Jacket?
Being an exceptionally stylish piece of outerwear, a houndstooth jacket itself brings a great dose of classiness and sophistication. Its effect is even stronger when you wear it over a minimalistic outfit with little details – so, stick with minimalism and one-color combinations for a more fashion-forward look.
A style composed of a
Trucker Jacket
,
Mini Skirt
, and a
Long Sleeve Turtleneck
can be your go-to choice for a variety of occasions. It's classy apparel with a touch of vintage spirit convenient for hitting the streets with style. Wear it for brunches or similar day events to show off some style and embrace luxurious fashion.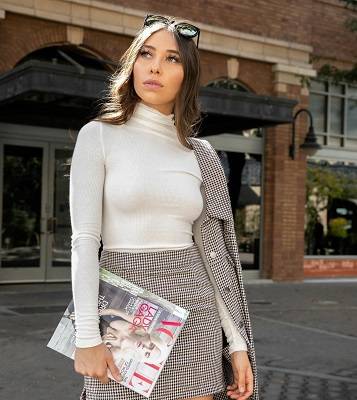 How to Wear Houndstooth Skirt?
A houndstooth mini skirt can boost your winter outfit and provide it with a touch of sophistication and timeless elegance. It offers endless styling capabilities, allowing you to create various effortlessly chic attires that fit any occasion.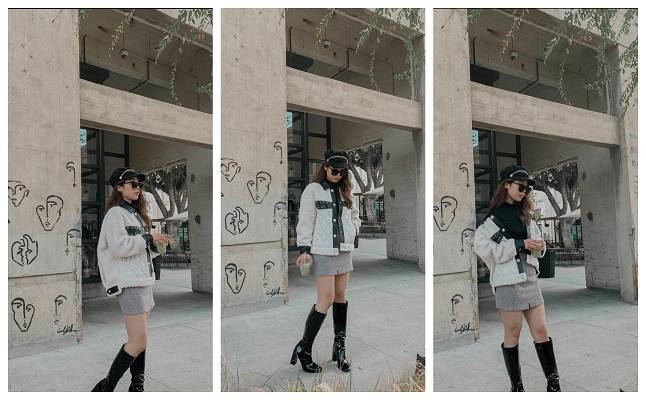 If you want to stick to a more conservative solution, you can go for houndstooth pencil skirts. Although they might seem traditional, pencil skirts in this pattern are exceptionally sexy, too.
How to Wear Houndstooth Pants?
Houndstooth pants, another versatile piece you can wear at any time, give you a lot of opportunities when it comes to styling. You can wear anything from solid color tops, blouses or sweaters in the same pattern and use different jackets, blazers, or
coat
s as a layer.
For example, a houndstooth blazer paired with matching print pants is an excellent way to underline your classic style and get an outfit ideal for any work-related environment.
A
High Waisted Houndstooth Jogger
and a
Plaid Cold Shoulder Blazer
make a perfect pair. This is an ideal example of a chic and stylish look convenient for many different events. You can boost your houndstooth apparel with accessories, such as jewelry, a leather handbag, or bombastic sunglasses that make a statement. Still, whatever you choose, you'll look fabulous.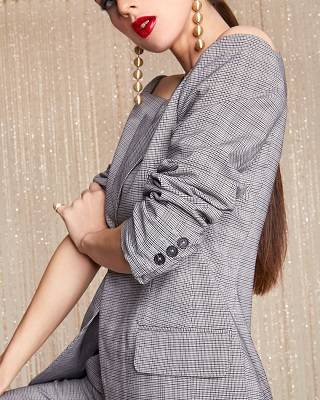 How to Wear Houndstooth Dress?
A houndstooth dress allows a variety of styling options, giving you the opportunity to create different outfit types – from casual to dressy ones. You can pair a classy houndstooth dress with pumps or sneakers, depending on what look you want to achieve, and update it with an array of accessories, including sunglasses, a miniature handbag, a belt, and more.
A cute houndstooth print dress works perfectly with a cropped blazer, providing an iconic appearance inspired by the streets of Paris.

You cannot go wrong with a remarkable combination of a
Print Bustier Dress
and a
Navy Cropped Blazer
. This easy outfit is all you need to embrace the classic fashion tendencies and make an effortless transition from the office to a more relaxed atmosphere. Be free to experiment with accessories, shoes, and bags until you find the apparel that fits you the best.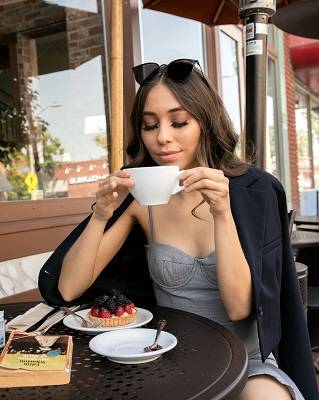 More Items in Houndstooth Pattern
Houndstooth print has significantly evolved throughout the years, which is why today, you can find it in different colors, checkered patterns, and on diverse items. Apart from being widely used on almost all kinds of garments, including jackets, blazers, vests, skirts, dresses, and pants, it can be seen on scarves, shoes, hats,
T-shirts
, blouses, and even bags of luggage.
Besides, don't be surprised if you see houndstooth fabric on home décor and beddings – its popularity has gone beyond the ordinary, incorporating more trendy uses.